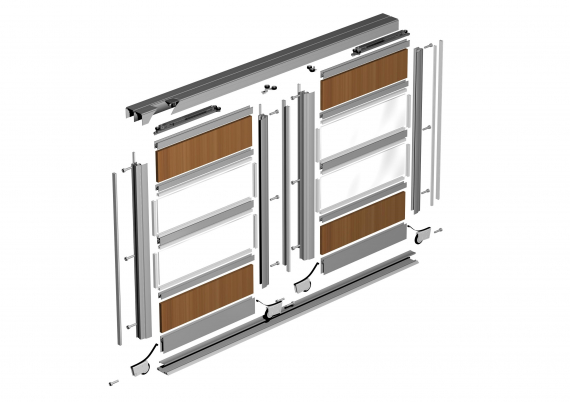 WELCOME TO
NEVATO.
The NEVATO company, as a manufacturer of aluminium profiles and elements enabling creating sliding doors, wardrobes and interiors perfectly fits into the designer standards of the furniture industry of the 21st century. The idea behind the establishment of the company was strictly defined and very simple - we wanted to create an avant-garde product of unprecedented quality and aesthetic finish. Several years of activity in the industry has resulted in achieving the highest parameters of components manufactured by us. The highest quality components are characterised by uncompromising performance characteristics. Thanks to many years of experience of our designers, as well as using components of European origin, we are deeply convinced of the success of our mission. Our efforts have been appreciated by European companies, for which we have created several dedicated system lines.
We encourage you to use our door design platform - DESIGNER .
TOP NOTCH QUALITY
The products of NEVATO company are undoubtedly characterized by excellent workmanship and finish. We have managed to achieve this effect thanks to the use of the latest available technologies, as well as thanks to the constant control over the precision of production of our products. The best European aluminium and the highest quality plastic mixtures allow us to rank among the leading furniture companies of the old continent.
AESTHETICS AND FUNCTIONALITY
The aesthetics of NEVATO products goes hand in hand with their functionality. The range of our products has been designed so that individual elements can be matched to any interior. Classic forms in a modern edition ensure an elegant look and timeless design.
They can be successfully used in homes, offices, public institutions, etc.
INNOVATION
We are all familiar with the traditional wardrobe with sliding doors, but it does not always meet the user's expectations. To meet the needs of our customers we have created innovative products, perfectly matching their needs. Our column systems can be easily rearranged during use by changing the height of the shelves and bars or changing the number of shelves and bars. A wide range of different systems, their innovative shapes and technical features make NEVATO brand recognizable among the competition.